I love short stories and Demigods & Magicians: Percy and Annabeth Meet the Kanes is no exception. There is something about a short story that keeps me interested and excited that a novel cannot match. This isn't to say that I do not love novels. I would not write so many book reviews if I did not love those as well. However, I find short story collections like Demigods & Magicians to be a breath of fresh air. Thus, I enjoy reading them whenever I get the chance.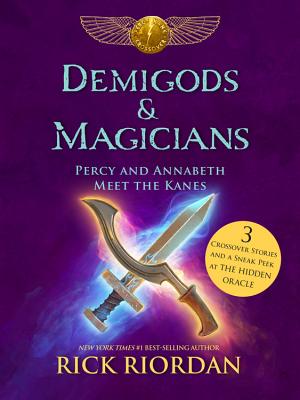 General warning: spoilers ahead for Percy Jackson and the Olympians, The Heroes of Olympus, The Kane Chronicles, and Demigods & Magicians.
First Impressions
My love for short stories stems from their ability to condense a narrative into a small space. They bring characters to life in only a few short pages, and we get sucked into a brief snapshot adventure. The benefit of companion stories such as these of course is that we have context.
As I mentioned previously, I accidentally started to read The Staff of Serapis after I finished The Mark of Athena. It is included at the back of my copy so I didn't see the harm in giving it a try. I was of course hopelessly confused after only a few pages because I had never read any of The Kane Chronicles. As a result, I shut the book and promptly forgot all about it. This was to my immense benefit and also immensely hilarious. Simply put, The Staff of Serapis succinctly spoils multiple plot twists that had me on tenterhooks throughout The Kane Chronicles. Among these are: the Kanes are descendants of the pharaohs, Julius merging with Osiris, Amos taking over the House of Life, and Will merging with Anubis.
Further Reactions
I found the contrast between The Son of Sobek and The Staff of Serapis to be highly amusing. Carter and Percy—who are incredibly similar—are immediately at odds. Meanwhile Sadie and Annabeth—also incredibly similar—are immediate besties in sync with each other's vibes. I enjoy how these first two stories appear unrelated—overlapping characters aside—until we read The Crown of Ptolemy where all four protagonists finally come together.
These stories neatly tie up the loose end left by The Kane Chronicles. I mentioned in my review of The Serpent's Shadow that I was wondering how the Setne arc would be resolved. I enjoy Riordan's resolution. All the same I am dismayed at seeing the last of the Kanes. Granted, now that we are getting a new Percy Jackson book, I suppose anything is possible. And of course, there is always my favorite website to turn to, Archive of Our Own.
Final Thoughts
Overall, I really enjoyed these short stories. They charm the reader, and tie together the two universes in a delightful way. I would love to see more stories that integrate the demigods and the magicians. As Hamlet says, "There are more things in heaven and Earth, Horatio, / Than are dreamt of in your philosophy". There is more to the world than either the demigods or the magicians know. The power of their colliding worlds is scary but also invigorating, and honestly deserves more than just these short stories. It is a missed opportunity to not explore these combined worlds further. I am excited to read the Magnus Chase stories soon, as I know those will incorporate the Norse gods. I have high hopes that everything will be connected in further stories in these interconnected universes.
Next Time
Next time in the Percy Jackson Project—and knowing how chaotic my life is I am not going to go around promising exactly when next time will be, this time—I'll be reviewing The Demigod Diaries. This is a book of "short stories, games, and more" about Percy Jackson and the Heroes of Olympus. After that, we'll be moving on to Magnus Chase and the Gods of Asgard. I am planning to read and write the entire series of posts beforehand so those will be weekly when they eventually come out. Make sure that you are subscribed to this blog to stay updated about when I post next, and follow me on Twitter for more updates about my writing, projects, and random thoughts and memes.
Additionally, if you're a fan of Doctor Who, the centenary special "The Power of the Doctor" will air this weekend! I'll be livetweeting the episode from The Wibbly Wobbly Timey Wimey Podcast Twitter account @WibblyPod at 8pm EDT October 23rd. If you miss it, we post links to the top tweet of all our livetweets on the Wibbly Wobbly Website.
Note: I appreciate the patience of the regular readers of my blog for this late update. Lately I have have a number of personal, professional, and medical issues. I remain grateful for the grace I have been given in this period of time.
Note: This page contains affiliate links. If you choose to purchase after clicking a link, I may receive a commission at no extra cost to you.