The Mark of Athena
I know that I sound like a broken record, but every book of The Heroes of Olympus is just better and better. The Mark of Athena is therefore the latest and greatest. The Greek and Roman camps have finally met and the prophecy of seven is unfolding. It can be difficult to juggle a story with so many protagonists, but Riordan does a fantastic job in The Mark of Athena. There is so much to appreciate about this series and specifically about this book.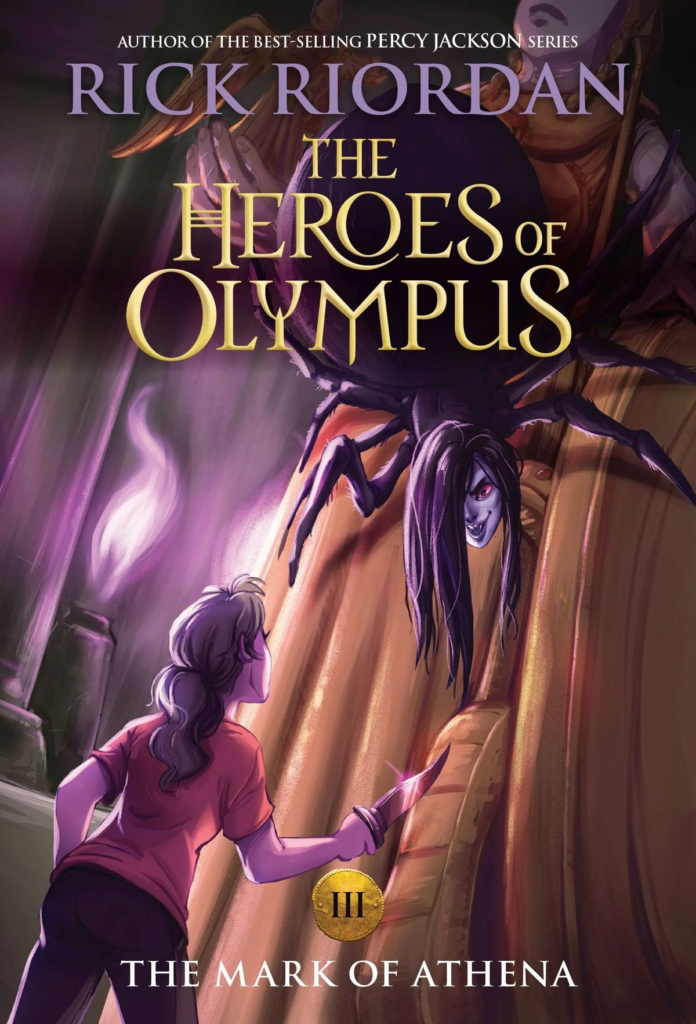 The Mark of Athena contains a beautiful mix of philosophy, humor, and vulnerability. Riordan's writing is as humorous as ever—the scenes with Phorcys, the Ichthyocentaurs, and the twin giants Otis and Ephialtes come to mind. The playfulness and skill that is characteristic of Riordan's writing comes through in these scenes. In the sequence with the Ichthyocentaurs we have our expectations subverted. We have grown used to the heroes facing combat and instead they are faced with friendly merfolk and brownies.
Another place where we have our expectations subverted is in Atlanta. It may seem a small moment, but the interaction with the librarian Esther stood out to me. I considered it from her perspective and I saw things shift entirely. While Percy, Frank, and Hedge are on the lookout for monsters, she simply sees them as three lost tourists. She demonstrates real kindness in making sure that they have a place to go and offering them food with no expectation of payment or that she will ever see them again. This is something that we do not always see in media. I was comforted by witnessing someone in a book exhibiting that sort of care for others.
Divide and Conquer
The Mark of Athena is fundamentally a story about division and unification. On a broader scope, that is the theme behind all of The Heroes of Olympus. Through the lens of the conflict between the Greek and Roman camps we get to see how two sides with the same goals can be turned against one another.
Nevertheless, the references and comparison to the United States Civil War made me uncomfortable at times. I cannot quite place why not all of it sat well with me. There is a vibe that simply felt… off. That said, the treatment of The Civil War in The Mark of Athena is an improvement compared to previous books. Riordan appears to have done his best to dig himself out of the hole created in The Sea of Monsters. In that book, Clarisse calls upon confederate soldiers and we are first introduced to the concept of demigod involvement in the Civil War. The reframing here places things in a much better context.
Hazel calling out demigod involvement in the war was a particularly gratifying moment for me. When she references the enslavement of her grandmother it calls attention to the fact that enslavement is not a distant part of the past for the United States. I wish that Jason had given more space for Hazel's hurt in anger at that moment, and that his apology had been more straightforward. Nonetheless, I appreciate Jason's point that both Greek and Roman demigods fought on both sides. Something made increasingly clear across these series is that demigods are not always the "good guys". Hercules, for example, is the very definition of "never meet your heroes."
Deeper than that conflict, however, we see how the seven demigods of prophecy are able to join together and work towards their goals to fantastic results. Though a large team, they constantly splitting up into different configurations to go on mini-quests along their journey. In these moments we see how they are all able to work together as essential parts of the unit. They are not interchangeable exactly, but their strengths and weaknesses all balance each other out. This makes their teamwork seamless no matter what combination they happen to be in.
Percy
This ability to configure and reconfigure themselves is something that draws me to a particular moment relatively early on in The Mark of Athena. Annabeth and Percy are having their conversation in the bottom of the ship, and Annabeth expresses her doubts about whether or not the Greeks and Romans will ever reconcile. Percy, though he does not say it aloud, holds on to hope.
It had to be possible to belong in two different worlds at once. After all, that's what being a demigod was all about—not quite belonging in the mortal world or on Mount Olympus, but trying to make peace with both sides of their nature.

Mark of Athena, p. 165
As someone who often finds themself wandering through different worlds and never feeling like they can't belong, I found this moment achingly relatable. Percy simply wants to find a home where he and Annabeth can settle together and be happy. At only sixteen he has already been through so much turmoil and seen so many horrors that his biggest desire is to live in safety and leave that world behind.
Percy's main concern is and always has been Annabeth. When he had lost all of his memory, the only thing he remembered was her. His devotion to her is as steadfast as I have seen in any story. Later on in the book he continues to prioritize Annabeth, as he considers what it would be like to abandon their quests altogether:
She had to go on this quest. The fate of the world might depend on it. But part of him wanted to say: Forget the world. He didn't want to be without her.

Mark of Athena, p. 360
Ultimately Percy has no choice but to watch Annabeth leave for her quest on her own. She is her own person, and because he loves her he would never try to control her. He even voices it earlier in the book when he says
"I learned a long time ago: Never bet against Annabeth."

Mark of Athena, p. 313
Percy's dedication to Annabeth, and his loyalty in general, has been a theme throughout these books. Many times it has been held against him, to the point where some consider it a fault. Ultimately it comes to the point where Percy cannot leave Annabeth behind, and follows her into the depths of Tarataus itself. Some may consider this foolish, but it it nevertheless entirely within character for Percy. He will always go where Annabeth goes.
Annabeth
I absolutely loved how much time we got to spend with Annabeth in this book. She has always been an idealized character. She's been viewed from afar as someone who is powerful and in some ways untouchable. Obviously she has vulnerabilities, but she has been on a kind of pedestal. This is not because she is portrayed as having no faults, but because those faults are absolved by the narration not fully inhabited her perspective. In The Mark of Athena we spend more time with Annabeth's psyche than ever before. As readers we are able to truly understand her drive and emotions for an extended period of time. We have a front row seat to ingenuity and grit, and along with seeing the gears behind her quick wit, we also see the sea of vulnerabilities.
Her views on the world and her philosophy are such that I wish we could have an entire series grounded in her insight. I would love to see a book entirely from Annabeth's perspective. She is incredibly thoughtful, and the way her mind wanders is very similar to mine. At one point the narration tells us what she is thinking as she admires the architecture in Charleston:
[Annabeth] wondered why beautiful things had to be wrapped up with evil history. Or was it the other way around? Maybe the evil history made it necessary to build beautiful things, to mask the darker aspects.

Mark of Athena, p. 229
This duality of thought, the willingness to interrogate is one of my favorite things about Annabeth. She sees the world complexly and wonders about how we've arrived at the points we have. She also comes up with solutions to improve the situations she finds herself in.
Final Thoughts
I did not love everything about The Mark of Athena. I find it grossly offensive that the gods switching back and forth between their Greek and Roman counterparts constantly and consistently referred to them as being "schizophrenic." That usage of the term is extremely problematic. It contributes to the dehumanization of people with mental illnesses and perpetuates misleading stereotypes. I hope that in future books Riordan corrects this, as many people who have read these series assure me that his writing improved over time in terms of diversity and inclusion. Already I can see that he has expanded the scope of his writing in The Heroes of Olympus compared to Percy Jackson and the Olympians. I can only hope that it gets even better from here.
Overall, though, I really enjoyed reading The Mark of Athena. Despite the fact that it is over 500 pages long, I found it to be a remarkably quick read, and I finished it in a single sitting. I highly recommend it of course, and I am very much looking forward to diving into The House of Hades next week. Make sure to subscribe so that you will be notified when I post next week! You can also follow me on Twitter for more updates about my writing and current projects, as well as a variety of other topics as is my chaotic wont.
Cheers!
Talia
Note: This page contains affiliate links. If you choose to purchase after clicking a link, I may receive a commission at no extra cost to you.