The Serpent's Shadow is definitely the best book out of The Kane Chronicles trilogy. It wraps up the entire story neatly while still leaving room open for more to come. I am interested to see where the Kanes intersect with the demigods. My next entry in The Percy Jackson Project will cover the short stories with overlap between the series.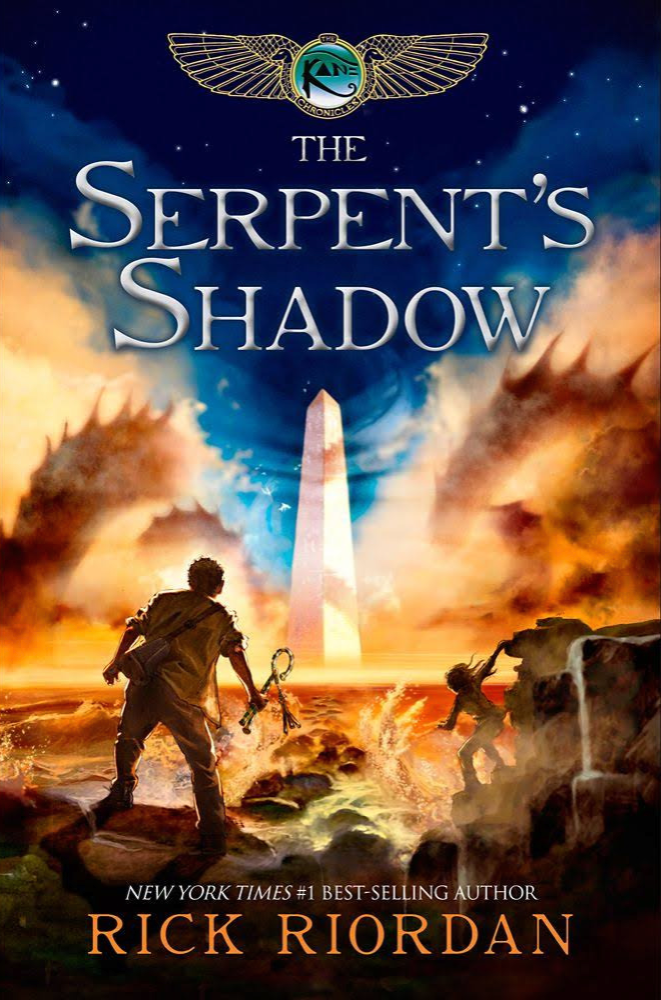 I remain incredulous at Sadie, Carter and company's ability to defeat so many experienced magicians with so little training. Additionally, I am aghast at the idea that they would bring a kindergartner to the battlefield. Still, I have decided to suspend my disbelief. My current working theory is that the gods giving them supreme power-ups means that the other magicians wereworking at a severely diminished capacity. 
I am curious whether Setne will come up as a villain in one of the future stories I intend to read. It would be cool to have a villain challenged by tools from a rival belief system.
Set is an enjoyable antihero. I love seeing him and Amos work together. Seeing Set treated with nuance is great. Trickster deities are more than they seem. This makes me very curious about how the Magnus Chase series is going to treat Loki. 
Speaking of Set I thought the moment where he acknowledged Anubis as his son and Anubis got embarrassed was hilarious and adorable. It was a humanizing moment for the gods which is something I always find entertaining. It also underscored how the narrative treats Anubis as a young god which quite frankly makes me feel better about the fact that he is 5000 years old and has a crush on Sadie who is literally 13.
The age difference makes me feel a way but the narrative is really pushing the idea that he has the mentality of a 16 year old which… still feels weird for him to be dating at 13 year old to be honest. I'm not sure that Rick Riordan really thought this through when he was writing. That said I know that he has greatly improved and learned a lot in the intervening years from reader feedback and working with other authors so I am going to give him the benefit of the doubt. 
Combining Walt and Anubis into one person is a clever way to resolve their love triangle with Sadie. I clocked it shortly into The Serpent's Shadow, but I still think it's clever. I feel bad for Sadie because I can understand her confusion about it, but it does neatly fix things. My main stressor is again, she is 13. I remain upset that she might feel pressured to stay in the relationship. Sadie being who she is, I doubt she could be pressured into doing anything she didn't want to do. However, 13 year olds are very impressionable in general. 
This is the problem with reading these books as an adult. So many alarm bells are ringing in my brain at various aspects of the story. It was a relief to read at the end that Brooklyn House will now have adults live there and supervise. I love reading YA and middle grade fiction but a lot of times my brain goes around in circles wondering where all the grownups are. I can usually suspend disbelief but when I read about the five-year-old fighting it was a step too far. 
Overall though I did really like The Serpent's Shadow. It had engaging pacing and it tied things up neatly. At the same time it left just enough teasers that there could be another book waiting. There's also definitely lots of fanfic fodder. I know that the first thing I'm doing when I finish The Percy Jackson Project is reading all the fanfic I can find. (And probably writing some too!) 
Next week I'll be covering the short story collection Demigods & Magicians: Percy and Annabeth Meet the Kanes and the week after I'll cover The Demigod Diaries which I meant to talk about before The Kane Chronicles but I forgot. I'll probably then take another short break before we move on to talking about Magnus Chase and the Gods of Asgard. In the meantime, make sure that you are subscribed to this blog to stay updated about when I post next, and follow me on Twitter for more updates about my writing, projects, and random thoughts and memes. 
Cheers
Talia
Note: This page contains affiliate links. If you choose to purchase after clicking a link, I may receive a commission at no extra cost to you.