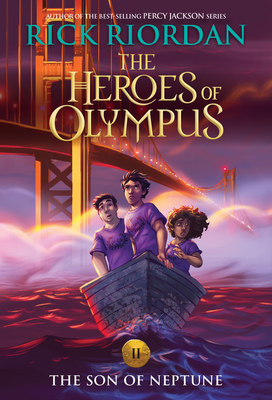 The more I read of The Heroes of Olympus series the more I fall in love with it. I enjoyed the original Percy Jackson and the Olympians series. However, The Lost Hero and The Son of Neptune present an expanded world and improved storytelling that make it that much more interesting and enjoyable to read. I love all of the characters that we are getting to know in these books as we shift the focus away from Percy alone and get to know other characters and see the world through their lenses. The intricacy of the storytelling combined with the heartwarming characters pulled me into the book and made it almost impossible to put down.
Hazel and Frank are fantastic characters in and of themselves. Their histories are rich and getting to know them is an intriguing and worthwhile experience. They both present one of my favorite opportunities for revealing mystery in storytelling, which is when we are hearing a story from a character's perspective and we slowly learn their secrets as they build trust with another person.
Hazel in particular is a wonderful character, and I loved how we as readers slowly pick up on details that not everything is as it seems with her. The small clues such as the gems appearing are the first clue we get. The hints, followed by confirmation that she is not from this time and has been raised from the dead feel very earned. At the same time, there are aspects of her history that make me uncomfortable. I especially disliked Riordan's portrayal of African religious traditions as being something that were faked.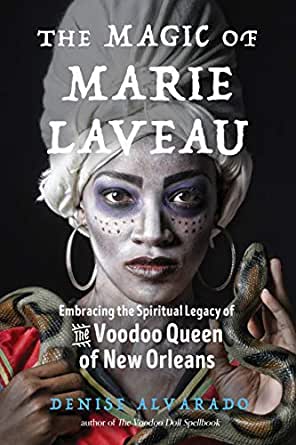 This was especially jarring for me because Marie Laveau was a real person in New Orleans in the 1800s and is known as a "Voodoo Queen." The fact that Riordan is invoking her here makes me very uncomfortable. I am not a practitioner myself, but one book I can recommend to readers if they would like to learn more about Marie Laveau and African traditional religion is Denise Alvarado's The Magic of Marie Laveau: Embracing the Spiritual Legacy of the Voodoo Queen of New Orleans. I also highly recommend Lilith Dorsey's books Orishas, Goddesses, and Voodoo Queens: The Divine Feminine in the African Religious Traditions and Voodoo and African Traditional Religion.
One part of The Son of Neptune I greatly enjoyed was getting to see what Percy is like on his own without his memories. In The Lost Hero we got to see how Jason coped with amnesia—how he developed his sense of self. The issue with that is that we never actually knew Jason. I enjoyed his journy as he learned how to live in his new life at Camp Half-Blood, but we never knew what the old Jason was like. Therefore it was not as poignant as it is in The Son of Neptune, where we see Percy coping with his amnesia.
In The Son of Neptune Percy does not know himself, but we as readers have gotten to know Percy very well. The entire first series was narrated in the first person from his perspective after all. In this book we get to see how he acts when his memories are gone—that is to say, who his core self is. We also get to see how people view Percy from the outside, the impression that he gives others. The harshness and suspicion with which others view Percy is also something that readers are not familiar with. Neptune being a disfavored god among the Roman camp and thus the transformation from a venerated son of Poseidon to a distrusted son of Neptune is a huge shift for readers and for Percy himself, though he does not fully understand it.
A main theme of this book that I enjoyed was how the reader simply knows so much more than the characters. We are aware of Percy's past through Percy Jackson and the Olympians, and we are aware of the premise of a war with Gaea and the need for the two camps to unite from The Lost Hero. Often when the reader knows so much more than the characters the book can be dull. The reader has so much more information that it feels annoying for the characters to have to learn it as well. It can make us roll our eyes because well, we already know that don't we? But Riordan does a great job in The Son of Neptune of not only making those reveals to the characters interesting, but also throwing in enough curveballs about what the reader doesn't know that we stay hooked. 
For example, the fact that Leo and Sammy are apparently the same person or at least related threw me for such an entire loop that I am going to start reading the next book as soon as I finish writing this post. At the same time, it was definitely foreshadowed, so it's not completely out of left field. I'm excited to see where it goes as it keeps things interesting.
I loved getting to see how the Roman gods are so different from their Greek counterparts. The insight as we see Mars in this book compared to the portrayal of Ares in Percy Jackson and the Olympians is startling but also fits well. The difference in Mars versus Ares lends itself well to analyzing the character of Frank, who is an incredibly compelling character.
Frank's character is deeply steeped in mythology. The fact that he will die when his branch burns down, and that he is descended from Periclymenus both call back to mythology involving the argonauts. As is described in The Son of Neptune, Frank can shapeshift because that was the gift given to the argonaut Periclymenus by his grandfather Posiedon. However the fact that Frank will die when the log of the fire will die down calls to the myth of another argonaut—Meleager.
Meleager was the Prince of Calydon and youngest of the argonauts. When he was a baby his mother was visited by the fates, who told his mother that he would die when the log of the fire burned down. There are varying accounts of why he died, but most that I have read agree that there was a conflict wherein he killed his uncles. Because of this, his mother burned down the stick in revenge for his having killed her brothers.
Overall, getting to see the layout of the Roman camp, the structure, and the ways in which it functions was amazing. I appreciated getting to see this alternate way of conceptualizing being a demigod. The comparison to the Greek side of things as was portrayed in previous books was incredibly exciting. The framework and expansion of worldbuilding was absorbing. All critical questions were answered, and yet there is ample room for more development later.
I really, really liked this book. I'm looking forward to The Mark of Athena, where we will finally see the two camps together, and the prophecy of seven come to fruition. Make sure you subscribe to this blog to read my thoughts next Tuesday! You can also follow me on Twitter for updates about when I post.
Cheers,
Talia
Note: This page contains affiliate links. If you choose to purchase after clicking a link, I may receive a commission at no extra cost to you.