THERE ARE SPOILERS HERE. You have been warned.
Welcome to the Percy Jackson Project! Today I am discussing book two of Percy Jackson and the Olympians — The Sea of Monsters.
I really liked The Sea of Monsters. It was a book that I finished quickly — speeding through books is a bit my style — and it was complicated. The Sea of Monsters felt high stakes in many ways that The Lightning Thief did not, and while part of me thinks that may be because I had previously read The Lightning Thief, I think the more likely reason is that Percy and Annabeth and Grover are starting to grow older, and as they mature so too does the difficulty of their quests.
One thing I will note about Percy and Annabeth's relationship is that there seems to be a bit more tension between them mixed in with their camaraderie in this book, and I wonder if this phenomenon is a result the circumstances within the book, or if my meta experience with seeing 'The Lightning Thief' in theaters is rather unfortunately influencing my perception of the text. I will say that while I am doing my best not to allow meta influence affect my analysis, I do struggle with the fact that having seen the movie I am very affected by the much more antagonistic relationship they have in that medium.
I noted in my discussion of Lightning Thief that Grover is an adult despite how he is often referred to being developmentally similar to Percy's age, and I think that is made even more clear in this book. Here Grover goes on his quest to find Pan alone and he is allowed to do so, having reached the point where he is trusted with that level of independence. Percy, for all his merits, is still only thirteen at this point in the story, and dependent upon his mother and other adults in his life, and while of course should be trusted as an autonomous being with agency, is still a child. And yet I wonder about this because Percy and Annabeth are also treated with a great deal more independence by the gods and by Chiron than I would have expected most people to treat thirteen-year-olds.
Percy's journey over the past two books that I have read both follows in the footsteps of previous heroes — particularly Odysseus — and in other ways is entirely his own.
After giving it some deep thought, I circled back to the idea that the Percy Jackson books are aiming to tell a mythological story, and they model themselves off of Greek history and mythology in a way that implies that the gods and affiliated magical beings are — not stuck exactly, but more are on the same mindset that they were millennia ago. And so I wondered if perhaps they did consider Percy and Annabeth to be closer to Grover's age, not because they consider Grover to be younger and closer to the age of childhood, but because they consider Percy and Annabeth to be older relative to modern standards and thus closer to the age of adulthood.
This brings me to what I know many people have said before, but the Percy Jackson series really does such a phenomenal job in adapting mythology into a modern context. Riordan is masterful in the way that he finds new ways to integrate mythology and Hellenistic culture into the text while revisiting these old stories. Percy's journey over the past two books that I have read both follows in the footsteps of previous heroes — particularly Odysseus — and in other ways is entirely his own. Percy found his own ways through Scylla and Charybdis, and unlike Odysseus he easily fell to Circe's charms before he was saved by Annabeth. Granted, the cure was still via a gift from Hermes, albeit modernized.
And yet not all is perfect, is it? In releasing Percy, Annabeth also released a lot of nasty men, who arguably deserved punishment for the wrongs they had committed. Whether or not that punishment should be being turned into a guinea pig is an argument for another time. As a side note. Circe comes off as very gender essentialist and obsessed with gender roles in a way that makes my TERF senses tingle, but we do see very much of her after these scenes, so I cannot be sure.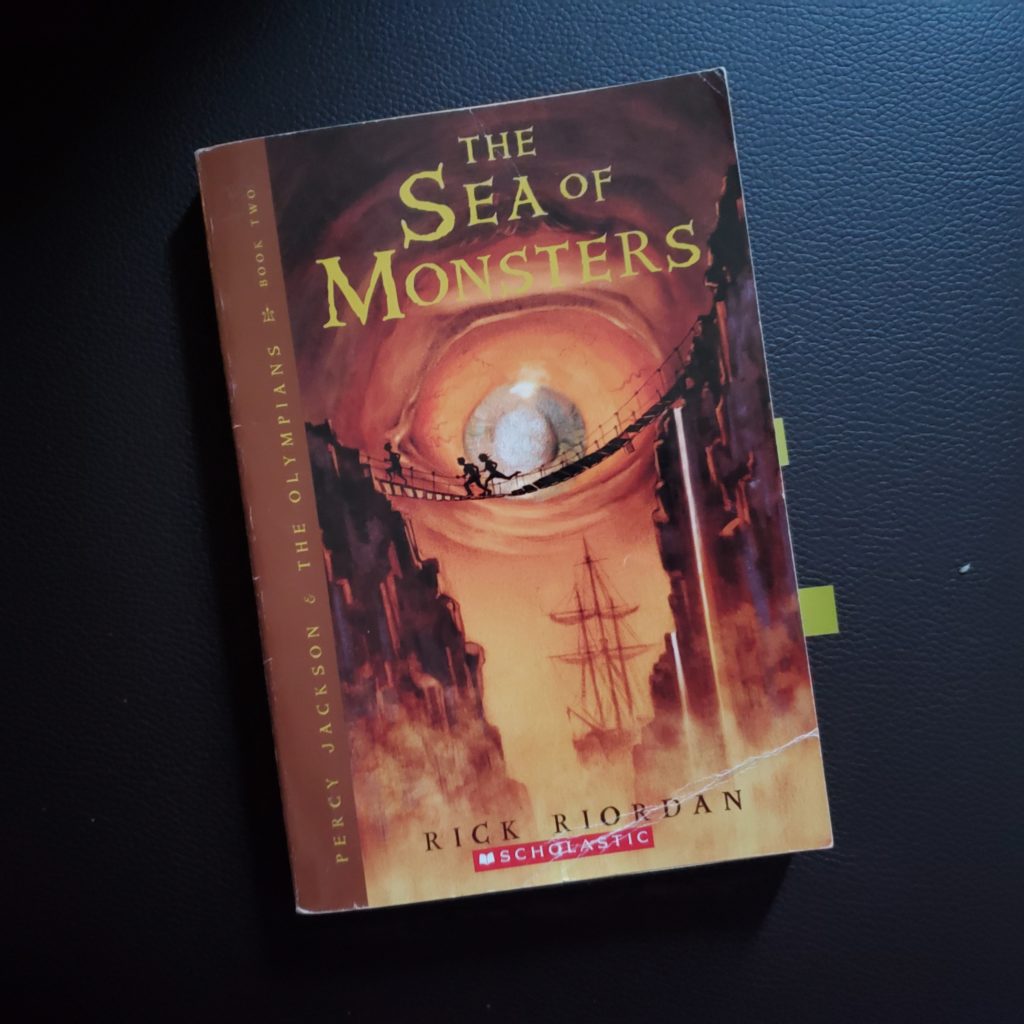 Honestly, there were more than a few places in this book where some reference or another was made to gender that I had to give it a side-eye. As an example, I was confused at the necessity of the main plot thread including Grover crossdressing and pretending to be a female Cyclops to avoid being murdered. From an objective standpoint, Grover was in a life-or-death situation and so is doing what he needs to do to stay alive. That said, the Percy Jackson series is full of jokes and comedic elements, and the fact that Grover is having to hide who he is by pretending to be a woman is undoubtedly one of them. I am further dismayed by how he enacts this plan by taking advantage of the fact that Polyphemus is partially blind. The learning that it is OK to take advantage of someone's disability is distressing. I acknowledge that Polyphemus is planning on eating Grover and thus Grover is doing the best he can under the circumstances, but at the same time Riordan wrote this book, and so the circumstances did not have to be this way.
I am most disturbed by how carelessly Clarisse outs Grover and puts his life in immediate and present danger, saving her own. In my mind this played out as a cis white woman outing a queer Black[1] person to save her own life and personal interests, and that was hard to read and process. That Clarisse was sailing on a confederate ship and her army was made up of confederate soldiers was just…. It was honestly so bad I hardly want to think about it, and I wanted to write it off as Clarisse and Ares both being horrible people who do and take advantage of horrible situations, but honestly it has led me to the conclusion that Clarisse is both racist and transphobic, which is incredibly uncomfortable since she is starting to become a more sympathetic character and so I do not know how I will feel if both of these trends continue. And in either case it utterly failed my Yikes! Check.
Then there's Tyson. Clarisse (who we have already covered as having some fairly negative traits) is one of the worst offenders as she uses the r-slur to describe Tyson. Not cool. Overall, though, Tyson's treatment over the course of this book is awful across the board! He is repeatedly pushed to the margins and demeaned by every character, including Percy, all of them calling Tyson a monster and wanting nothing to do with him even though he was vital to saving the camp and has been claimed by Poseidon. Annabeth does not even approach saying a good thing about him until she believes that he has sacrificed his life to save people to whom he has little to no value. The levels of ableism are horrifying, especially when paired with the fact that as a Cyclops Tyson is categorized as a literal monster and inhuman, not worthy of the same respect as the demigods, gods, or even mortals. Percy, for all that he often stands up for Tyson, denies that Tyson is his "real" brother to the other campers, and is embarrassed by their association with one another.
There has never been a binary that I haven't wanted to deconstruct.
The only person who seems to genuinely like Tyson is Chris Beckendorf, and honestly his description makes me uncomfortable as well. His introduction of having "hands the size of catcher's mitts" and "squinty eyes"[55] are uncomfortable, and the fact that he is implied to be excluded from many of the other campers despite his forging skill and his kindness — as evidenced by the fact that he is the only camper other than Annabeth willing to work with Tyson — is also something I read as having to do with race. Percy's internal narration waves away Beckendorf's comfort in work with Tyson as the result of being a son of Hephaestus, who works with Cyclopes in his forge. And yet even though Beckendorf is not the only camper in the Hephaestus cabin no other children of Hephaestus are mentioned as allies of Percy and Tyson.
Circling back to Polyphemus wanting to marry Grover, there is a throwaway line where Percy mentions that Polyphemus "couldn't have been all that bright on the male/female thing."[212] I scrunched up my face up at that point too, because there has never been a binary that I haven't wanted to deconstruct, and I have particularly strong beliefs about gender binaries. Combined with the confederate ship, the treatment of Tyson, Chris Beckendorf, I was starting to have SERIOUS doubts. But so many of my friends and other people on the internet seem to adore Rick Riordan and insist that when previous fans have called him out on not being as inclusive or knowledgeable about certain issues as he should be he course corrected in later books and has made sincere and conscious efforts to improve.
I know this is all sounding overly critical, but this book was a great read. I love the romp of an adventure and the chase scene of an escape — escaping New York, escaping camp, escaping Luke, escaping Scylla and Charybdis, escaping Circe, escaping Polyphemus, escaping Luke again…. They have a lot of close scrapes and I love to see it.
And yet I think perhaps my favorite thing about The Sea of Monsters — and this is something I noticed occurred in The Lightning Thief as well — is that the book dedicates time within the story for the characters to wind down from the end of their quest. I have noticed a trend in some books to go straight from the rollercoaster of a climax to a hasty few pages of aftermath before an abrupt ending. And for many stories with sequels I see things go straight from the climax to an uneasy period, and then a heart-stopping cliffhanger. But a real joy I had regarding The Sea of Monsters is how after they finished their quest and returned to camp there was a time of normalcy. Sure, people were worried about looming threats, but they were also rebuilding, healing, celebrating, and moving forward. Percy and Tyson fully bonded, and Tyson received the opportunity to learn in a space where he belongs. Percy connected with his mother, and he and Annabeth won the chariot race. Chiron was reinstated as Camp Director, and the Fleece healed Thalia's tree. The book's cliffhanger — Thalia's revival, does make one immediately reach for the sequel, but at the same time, there is a wholeness to this story that even some standalone novels do not have. Overall…. 8/10. And do not expect me to have a consistent ranking system, that is not how this works. ¯\_(ツ)_/¯
Happy reading!
Cheers,
Talia
Editorial Note: To my embarrassment I realized after writing that I never got around to discussing the plot of the book or any of the multiple male villains, which is rather unbalanced since I do not want to have my main critique be centered on only one of the main female characters in the book. There will be a part two of this post coming out next week.
---
[1] Apparently not everyone reads Grover as being Black, and so there might be people who judge me for reading him as Black given that the only "proof" is from the movie but I…. do not care? At all? There is nothing in the two books I have read so far that indicates he isn't Black, and white by default isn't something I encourage, so I suggest we all broaden our minds a little bit, mkay? And if it really bothers you that much, go read something else. I promise I do not mind.