Right off the bat I am going to say that I absolutely adored this book. The fact that I slept on it for so long and did not read it immediately after finishing the first Percy Jackson series pains me in a way that is almost physical. There is so much to unpack about what I loved about The Lost Hero, but I will do my best to keep it concise and in a single post.
The first thing I want to say is that I am so excited about the fact that we finally get justice for Aphrodite and her children! If you remember my last post about The Demigod Files, I was incredibly upset about the way that those from the Aphrodite cabin have been portrayed in the past. I really love how in this book we get to see a new side of the characters through Piper. One of my favorite parts of the book is when Aphrodite and Piper have their dream conversation:
"You have a strong will," she mused. "I'm never given much credit among the gods. My children are laughed at. They're dismissed as conceited and shallow."

The Lost Hero, Rick Riordan p. 431
There is so much more to Aphrodite than many realize. At another crucial point in their discussion Aphrodite points out that she is the youngest of Ouranos' children, and the oldest Olympian. She has a power that is underestimated at one's peril. Indeed, many times throughout this book it is Piper and her ability to charmspeak that gets the trio out of various tricky situations. Her voice and presentation save her life both in terms of charming people out of her way and by using it as a weapon in battle.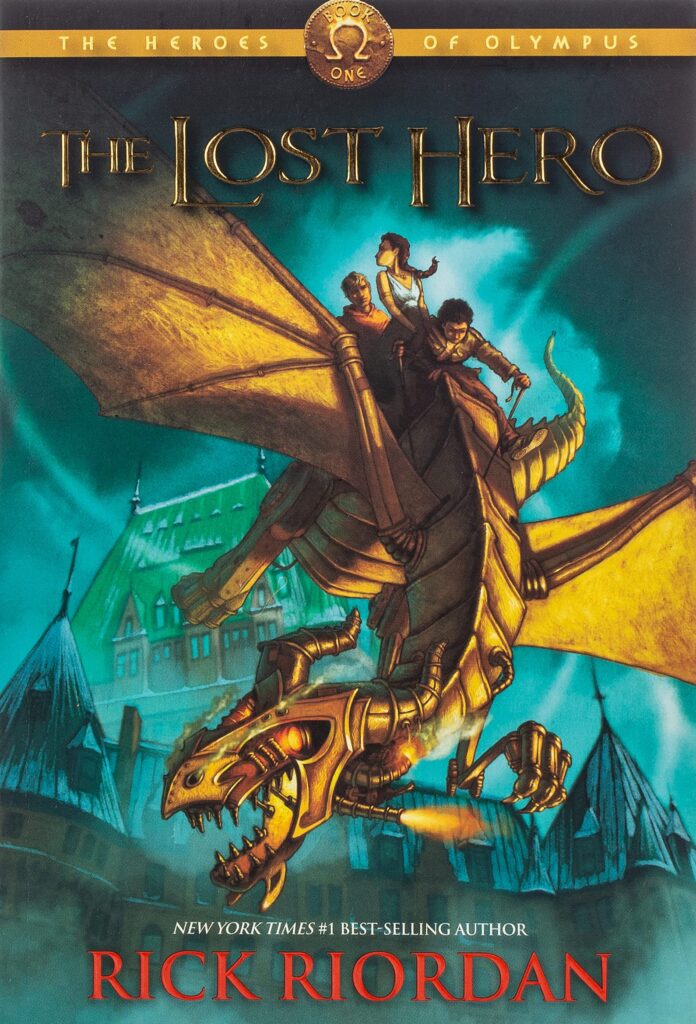 Of the characters in the book, I think that my favorite is probably Leo. I find a commonality with him in how he at times struggles to communicate, and how he masks his trauma behind humor. I also love how we see his journey as he hones his abilities with fire and technology and embraces his identity as a demigod. At this point we are only in the first book, and so the characters have a great deal to discover about themselves. Clearly Leo is still only at the beginning stages of learning how to control what is a great deal of raw power. I am looking forward to seeing how he works together with his siblings in the Hephaestus cabin to create more tools for the upcoming war. He still has a lot more to go through as he grows into his abilities over the course of the next few books and I am excited to see what is next for him.
As for Jason, the last member of the trio, I will admit that he greatly confused me at the beginning of this book. While I knew going into this book that it would include the introduction of the Roman demigods, I had no idea how it was going to play out or what role Jason had in everything. For a short while I entertained the strange idea that Jason might secretly be Percy with a changed appearance, but that was quickly thrown out of the window, especially once it was revealed that Jason was the son of Jupiter/Zeus. I enjoyed seeing his reunion with Thalia, and I hope that in upcoming books they get to have more time to bond as siblings that we can witness on the page.
I found it slightly infuriating how so many things were kept from the trio as they underwent their quest. Deliberately withholding information to manipulate events is one of my least favorite tropes in fiction. That said, I do understand that it was necessary for the story to play out the way that it did. My main problem is that I tend to hate secrets, though I must grudgingly admit that in this case they do make sense.
My favorite section of the book has to be when the trio are camping out in the sewers, and the narration pauses to reflect on their current experience:
If you asked most kids, "Hey, you want to summon fire or lightning or magical makeup?" they'd think it sounded pretty cool. But those powers went along with hard stuff, like sitting in a sewer in the middle of winter, running from monsters, losing your memory, watching your friends almost get cooked, and having dreams that warned you of your own death.

The Lost Hero, Rick Riordan p. 288
This section is not attributed to any particular character, but rather a reflection of what it is like to be a demigod. The life of a hero is not glamorous, and is not one of magic and delight. The life of a hero is a long and treacherous road. By including this section Riordan makes it clear that no matter how much we might enjoy reading the stories of demigods, we should not aspire to live their lives.
My favorite characteristic of The Lost Hero is how it improves in terms of named diversity and inclusion in characters. In the upcoming Disney+ show there will be multiple BIPOC actors playing starring roles; however, that does not change the fact that when Riordan originally wrote the books those characters were white. In The Lost Hero we have both Piper, a Cherokee character and thus one of the few Native American protagonists in middle grade and YA fiction. Both Piper and Leo, who is a Latino character, are not only named as having these identities, but their identities are an essential part of their character. Someone's race and ethnicity is more than just their skin color, it's also the culture that they come from, and I am happy to see that Riordan made sure that Leo and Piper were not BIPOC in-name-only, but that their backgrounds and experiences reflected their identities.
On a related note, while I did say that many of the characters as originally written by Riordan were white, I am SO EXCITED to have actors of color in the upcoming Percy Jackson series. I know that Leah Jeffries is going to make an amazing Annabeth and anyone who believes otherwise needs to do a serious check on their biases and have a hard think about why they are piling hatred on a twelve-year-old girl. I am so happy to see Riordan and many others rallying around Jeffries, and I wish it were not necessary.
This post has gotten pretty long, so I need to wrap this up, but I just want to again reiterate that this was a great book. The Lost Hero is a fantastic first entry into a series, and has set the stage for what is looking to be just as grand an adventure in The Heroes of Olympus as was had in Percy Jackson and the Olympians. Make sure that you subscribe to this blog so that you do not miss my review of The Son of Neptune, out next Tuesday! You can also follow me on Twitter for updates about when I post.
Cheers,
Talia
Note: This page contains affiliate links. If you choose to purchase after clicking a link, I may receive a commission at no extra cost to you.