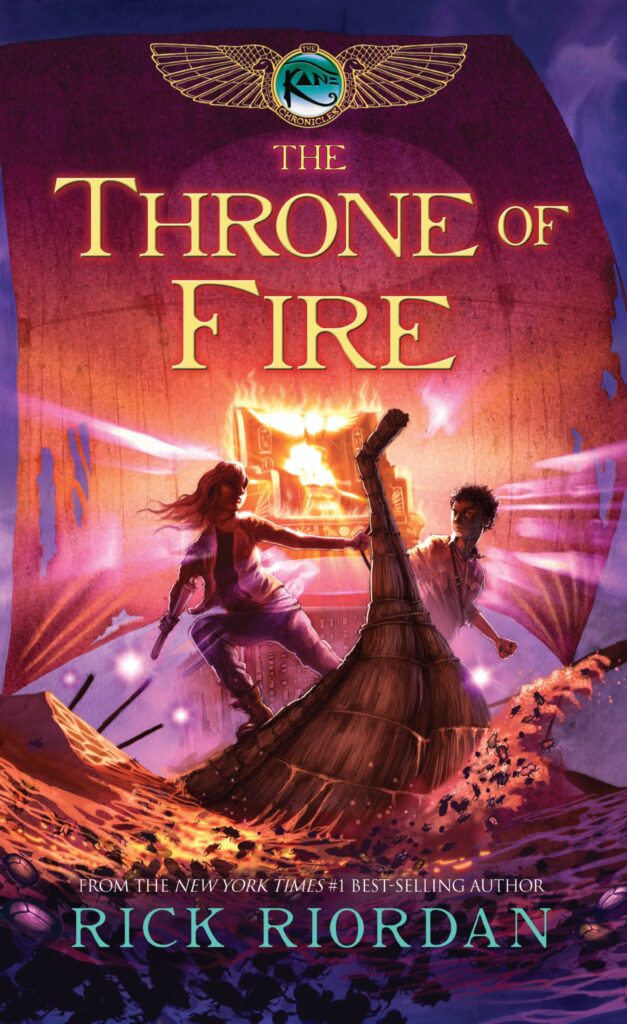 To be fair, I should have expected The Throne of Fire to grab my attention. I have loved many of Rick Riordan's books thus far after all. Nevertheless I was not prepared for how much this book dragged me into the narrative. The fact that we read the story through the lens of a recording continues to compel me. This unique manner of storytelling is fascinating. That is to say nothing of the story itself, which is one that I continue to find compelling. Enjoyable? Well there are several caveats that I will get to shortly.
First Impressions of The Throne of Fire
Sadie and Carter are incredibly entertaining and engaging narrators, to be sure. The Throne of Fire would not be what it is without their signature manner of passing the mic back and forth. Nonetheless, a solid adventure drives every good book.
One thing I loved about The Throne of Fire was diving back into this world as I read. The world building of how Egyptian magic works and the sheer amount of lore involved is incredibly impressive.
That said, I am slightly dubious at the level of skill the Kanes display. I am incredulous at them and their initiates holding their own against older and more experienced magicians. The only explanation I can think of is that they have the power of the gods. All the same, that does not feel like it should be enough to beat someone with so much more experience. Sadie and Carter themselves only have three months of experience. Surely even with their predisposition towards magic they could not have improved that much?
Body shaming in The Throne of Fire
Another problem I have with this book is its treatment of Bes. I like Bes as a character, but the fact of the matter is that the way he is first described includes a fair bit of body shaming. His height, weight, and body hair are referred to as "disgusting" and readers are told to imagine that he is worse than someone "for whom swimwear should be illegal." The fact of the matter is that no one should be policed for what they wear on a beach or anywhere else. This section of the book is immensely disappointing.
I appreciate that Bes is proud of his body and unapologetic about how he appears, but the way that he is described makes me incredibly upset. Calling him ugly is entirely out of line. These insults are inappropriate and damaging when one considers that this is a book that people will take lessons away from about how to treat others.
Ableism in The Throne of Fire
I am also very upset at the way that the characters treat Ra. In the process of trying to restore his soul they constantly insult and belittle him as if he is not there, calling him an "old git" and a "vegetable." They need him in order to win the war against Apophis but do not treat him as though he is a real person worthy of respect. The sheer ableism of it all absolutely reeks through the pages and I hate it. These problems make it very hard to enjoy The Throne of Fire.
Additional plot issues with The Throne of Fire
Another issue I have is when Carter finally releases Zia and she does not remember him—in fact she becomes almost an enemy. The victory feels not only hollow but also makes that entire arc feel unwarranted. This functionally kills off the Zia we knew in The Red Pyramid entirely, causing an all new kind of grief. This could be an interesting narrative choice, however because so much else is happening in these scenes there is no time for that nuance. We also skip over seeing this new Zia coming to terms with her situation, which cheapens the revelation. Hopefully this gets more fully resolved in the next book, but I confess myself to not having high hopes.
There is also the fact that the final act and journey through the Duat feels narratively weak as Bes sacrifices himself and the characters rush through the final houses to battle with Menshikov. Furthermore, Desjardin swooping in at the final moment also feels too convenient as he also must have had to go through the entire twelve houses in his weakened state. This is not even to mention the deus ex machina of everyone getting a power boost and half of the people that were fighting Brooklyn House switching sides as soon as Ra popped out.
Final thoughts about The Throne of Fire
Altogether I would say that The Throne of Fire is a book that I enjoyed while reading it. That said, as soon as I stopped to think about it for a few hours I came to the conclusion that I actually did not like it very much at all. Compared to the first book, and to all of Rick Riordan's other books I have read, it fails to hold up.
Look out for my next installment of The Percy Jackson Project next Wednesday covering the final book in The Kane Chronicles, The Serpent's Shadow! You can also follow me on Twitter for more updates about my writing and current projects, as well as a variety of other topics as is my chaotic wont.
Cheers,
Talia
Note: This page contains affiliate links. If you choose to purchase after clicking a link, I may receive a commission at no extra cost to you.