I'm back and things are more interesting than ever as we dive into another installment of The Percy Jackson Project—albeit one that actually doesn't feature Percy at all! So without further ado, here are my thoughts about The Kane Chronicles: The Red Pyramid.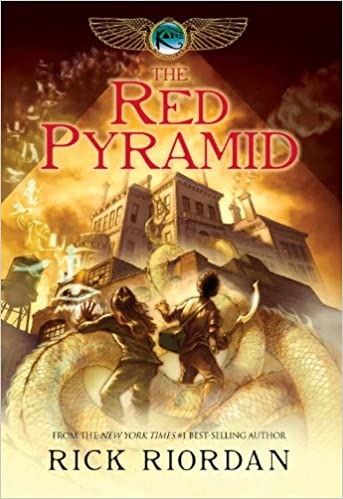 I love Sadie and Carter. I truly do. They have such a great dynamic as brother and sister. The framing device of the story is brilliant. I love how they keep taking the mike back and forth from each other. The frame allows Riordan to play with the storytelling in interesting and compelling ways that I appreciate. His multiple writing styles across his various series intrigue and delight me. We can tell that he is an author who truly enjoys having fun with his craft.
That Apophis and not Set who is the big bad of the series was obvious to me fairly quickly. However, it was extremely satisfying to see Set put in his place at the end. All of the characters are now set up to where they need to be for the upcoming challenges against Apophis. I look forward to seeing how Set is turned from a villain to a hero in future books. I enjoy that he is given his owed complexity in The Red Pyramid. Trickster deities are often reduced to being villains and nothing more. Thankfully, this is not the case here.
Julius merging with Osirus the way he did was unexpected. He used his children as weapons, or though perhaps props or uniformed accomplices is a better term. He needed a way to get into the museum and to keep the curator locked up and distracted, so used his children to do it. This calculated cruelty took me aback, as I would have expected him to value his children more. In my opinion, he did not do enough to protect and prepare them, and I was distressed by it. Julius could not have predicted what would happen. That said, the fact that he could not truly predict it and his subsequent arrogance in taking children into that situation makes me dislike him.
Sadie and Carter both have very different personalities and ways of walking through the world. These differences play off each other well. It makes for a more interesting story as they learn to work together as a team. I love seeing them bond and find out the strengths and challenges in their complimentary skills.
A significant factor in the differences between Sadie and Carter is the contrast in how they were raised. Firstly, there is the jealousy they have over the other's lifestyle. However, there is also the consideration of how each of them manifests different traits of their parents. Biracial children raised by only one side of the family walk differently through the worl. As someone who is mixed race and raised by a single parent I have intimate familiarity with this. That said, unlike Sadie and Carter the divisions between the two sides of my family are not so drastic. (I am also not descended from gods Pharohs and do not wield their magic, as far as I am aware.)
Still, I understand the hurt that comes from being told that you look nothing like your immediate family. I also understand the need to always look "presentable" and the potential for frustration and tension when encountering people in authority and police. Sadie and Carter's racialized presence was all over The Red Pyramid. I found myself surprised by how much I identified with it because I have grown to expect very little from white authors who write about Black characters.
One thing that I found was implied in the text but I am unsure if it was intentional is the fact that Sadie might feel jealousy and insecurity about her light skinned privilege. If it was written by an author who is coming from the experience and who had the range it would be interesting to see it explored how she felt being lighter than the rest of her family, and how in contrast Carter could potentially envy or reject that privilege.
It is never definitively said whether or not Sadie can pass for white, though the implication is there. I am interested in seeing how Carter grapples with his identity as a Black man. However, I feel like that is more clearly outlined in The Red Pyramid. (For better or for worse considering the fact that the author of these books is white and not writing from his own experience.)
Of course I want more white authors to include POC as primary characters in their stories. I am not sure that getting into the thorny topic of "own voices" is within the scope of this post. I do think that in the case of books where the main character is of a certain identity it benefits the book immensely if the author also shares that identity. In cases where the author does not, it makes me wonder whether it would have been better for the story to have been told by someone else, or for there to be space made for other stories written by new others from marginalized backgrounds.
I am aware that as I write this Rick Riordan has moved on to new projects that do great work to highlight people from marginalized backgrounds. The imprint Rick Riordan Presents makes an effort to publish books by and about people from underrepresented backgrounds. I appreciate that. I am simply thinking about this as I read his older works and consider what led him to the point where he is today.
One small point I will say is I did find the respect for Elvis slightly out of place. I personally feel like it does not properly reflect the ways in which Elvis stole music from Black folks and did not give them the explicit and monetary credit that they deserved. This is a grudge against Elvis that I know I share with many other Black people. Although there are undoubtedly Black people who do love Elvis—no culture is a monolith—I did find that whole sequence offputting.
This has gotten long so I will wrap things up to say that I thoroughly enjoyed The Red Pyramid. I think it tells an intriguing story in a compelling way. I look forward to reading The Throne of Fire and getting to know more about the world of Egyptian gods. I'm particularly eager to see how it differs from that of the Greeks and Romans from Percy Jackson and the Olympians and The Heroes of Olympus.
As y'all may have noticed this came out on a Wednesday not a Tuesday—and there's a reason for that! I was going to continue posting on Tuesdays, however my personal schedule has changed slightly and so Wednesdays are a more feasible day for posting. So look out for the next installment of The Percy Jackson Project The Throne of Fire next Wednesday! In the meantime you can subscribe to this blog and follow me on Twitter for more updates about my writing and current projects, as well as a variety of other topics as is my chaotic wont.
Cheers,
Talia
Note: This page contains affiliate links. If you choose to purchase after clicking a link, I may receive a commission at no extra cost to you.