The Return of The Percy Jackson Project
Given all the excitement and hype around the new Percy Jackson Disney+ show, I figured now was the perfect time to bring back my old blog series—the Percy Jackson project. Every week on Tuesdays I will be uploading a reaction/review of one of Rick Riordan's books in the Percy Jackson universe. Unlike many of my peers, I missed out on Percy Jackson as a kid, and so I only read the first few books as a teenager, and didn't come back to them until I was an adult.
I originally had planned to make this blog series much sooner than this, but time and other projects meant that it escaped me. Since I've already reviewed The Lightning Thief, The Sea of Monsters, The Titan's Curse, The Battle of the Labyrinth, and The Last Olympian, I'll be starting next week with my thoughts on The Lost Hero, the first book in The Heroes of Olympus series. I'll do my best to post promptly every week, though life often gets in the way, so I apologize in advance if I ever get behind on my reading!
In the meantime, here are my thoughts on The Demigod Files:
---
The Demigod Files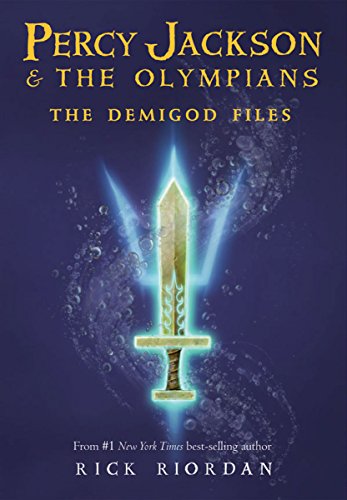 I really liked the Demigod Files. They provide a good compliment to the rest of the series, and a nice insight into the world of Percy Jackson that readers might not otherwise have. The letter at the beginning was very cute, and I like how it breaks the fourth wall and addresses the reader directly. The interviews as well make one feel as if we are really interacting with the characters and the content is truly made for us.
I am not always a fan of first person narratives, so Percy Jackson is a big exception for me in that I find it is done well. Percy's humor and sarcasm is something that I have greatly enjoyed throughout the books and through these short stories.
I adored how we see a Percy that has grown so much from the first book into someone who is a confident and capable fighter, able to utilize his powers to their full ability. Seeing Percy go up against all the different threats in these stories and use his unique powers to his advantage was very satisfying as we see a hero who is deep into his journey and knows what he is doing. His dedication to his friends and his need to fight for even those who are not necessarily his friends but are people in need of help shines through. Percy is someone who will always lend a helping hand and someone we could all aspire to emulate.
Another character that I enjoyed was Beckendorf, whose inclusion was both delightful and bittersweet. By reading the second story Percy Jackson and the Bronze Dragon I felt like I got to know him better and appreciate him more as a character. All the same that only makes his loss even more devastating. His romance with Silena is adorable. Knowing what happens to them later on, after reading this story, makes my heart slightly heavier.
Of the three stories, I think that my favorite was Percy Jackson and the Sword of Hades. I relished getting a peek at what the underworld of Percy Jackson, and I always enjoy seeing more of Thalia and Nico. The two of them with Percy make a fantastic team-up, and it does not happen often enough for my taste.
I clocked almost immediately that there was something strange going on with Persephone giving them the quest and not Hades. I was pleased to see that I was correct that she had been the mastermind behind the plot with the sword to begin with. Persephone is an powerful goddess, not to be underestimated, who is equal to Hades in all of the ways that matter. People underestimate Persephone and the influence that she wields at their own peril. It is a mistake to consider her nothing but a prisoner in the underworld.
I also found Percy Jackson and the Stolen Chariot to be incredibly entertaining, if nothing else than because whenever Percy and Clarisse team up I get to see how much they resent how well they work together. There is no better example of "frenemies" that I can think of than Percy and Clarisse.
Overall I greatly enjoyed The Demigod Files. That said I have a qualm with the book, and with the series as a whole. I have noticed in various places that there are throwaway comments and critiques tossed at the Aphrodite cabin that give the impression that all of the children of Aphrodite are vapid girls obsessed with makeup, jewelry, beautification, etc.
It's a snide criticism of high femmes and it bothers me because there is nothing wrong with aspiring to be beautiful. I'm certain that there is more to the children of Aphrodite than simply their looks. Just because someone takes great care with their appearance doesn't mean that they can't and don't have other passions. And even if that is their main passion, again, there is nothing wrong with that! Yes, the beauty industry can be toxic, but there are many ways in which it can make people feel more empowered and like they can be their more authentic selves.
What I'm saying is that it's more complicated and nuanced than a lot of people give it credit for. I loved that Travis and Connor got what was coming to them. The children of Aphrodite are fully capable of defending themselves and I was pleased we got to see that. At the same time, I wish that it was more obvious, and that the remarks against them were not made against them in the first place. I am resistant to the idea that the stigma should ever have been perpetuated at all. As I mentioned this is a problem I have with the main series as well. If I recall correctly there is pushback against it there as well. However, I maintain that it is a trope that I would have preferred had not been introduced.
Each of the three stories in The Demigod Files is engaging and for the most part lighthearted. Simultaneously, they contained the seeds of something darker in them under the surface when in the context of the series as a whole. This book is a fantastic compliment to the Percy Jackson series, and I highly recommend it!
Make sure that you subscribe to this blog so that you do not miss my review of The Lost Hero, out next Tuesday! You can also follow me on Twitter for updates about when I post.
Cheers,
Talia