Someone told me there was a YA fantasy set in 1920s Shanghai loosely based on Romeo and Juliet and I was hooked. These Violent Delights was everything I needed, wanted, expected, and more. I do not always go for romance tropes, but I enjoyed the twist on the enemies to lovers trope of Romeo and Juliet to enemies to lovers to enemies to reluctant allies as they work together to fight the evil that has risen in the streets of Shanghai. A plague is wreaking havoc on the entire city, and Juliette Cai and Roma Montagov must work together, despite the way that they betrayed one another four years previously, to find and destroy its source.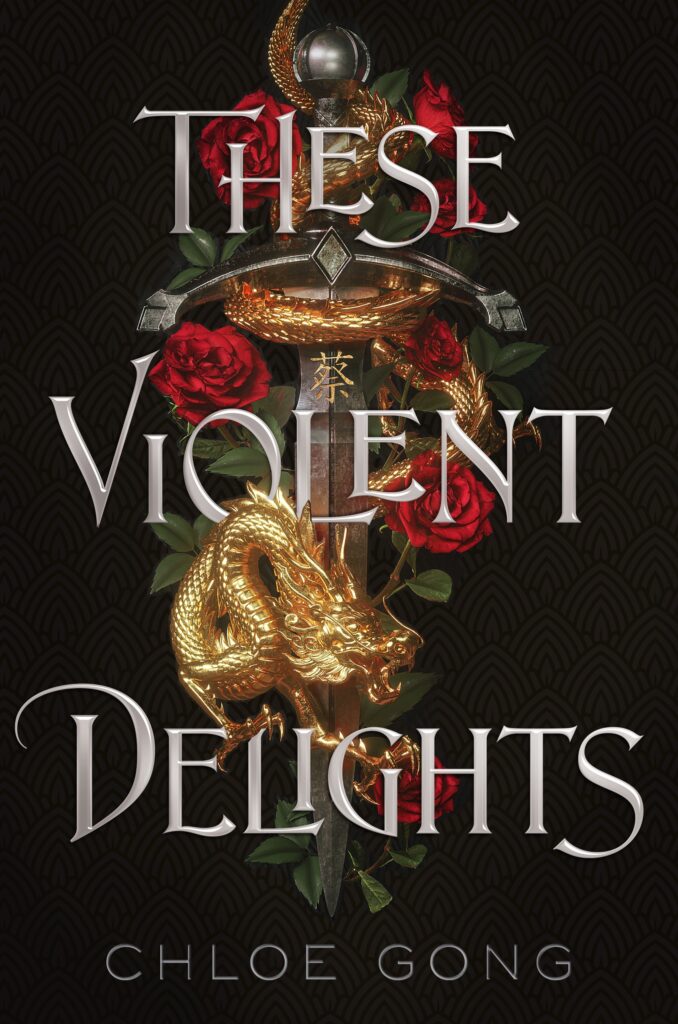 There is so much to love about These Violent Delights. I am not familiar with the setting in terms of location (Shanghai) or era (1926), but I do know that the book presents readers with a magnificent number of details. Given the thoughtful author's note that concludes the book, I must conclude that it was thoroughly researched. I appreciate Chloe Gong's devotion as she created a vibrant and fully fleshed world in this novel.
There were clues big and small scattered throughout this novel that indicated the inspiration of Romeo and Juliet. None were overwhelming, and the story of These Violent Delights is wholly its own. Here Juliette is heir to the Scarlett Gang, controlled by the Cai family, while Roma is heir to the White Flowers, controlled by the Montagovs. They are warring with each other and with other factions to control the streets of Shanghai. 
Some other differences include the character of Rosalind, far from a discarded love interest of Romeo's, is a vibrant and somewhat mysterious character, whose fierce loyalty to Juliette, the Cai family, and the Scarlett Gang is only surpassed by that of her sister, Kathleen. Both have their own deep motivations, and an itch to prove themselves as true members of the Cai family, even though they do not have the prestige of carrying the Cai name, due to their father having married into the family. While their narrative is a B plot, I honestly think that Kathleen and Rosalind may be more interesting to me that Roma and Juliette.
Juliette, on the other hand, is equal parts untouchable and a wild card. Primarily raised abroad, Juliette eschews traditional dress and styles herself as though she were American. Despite this she is the heir to the Scarlett Gang, which is composed of primarily native Shanghainese, and demands the respect of everyone around her. Her cousin, Tyler, constantly attempts to usurp her position. She continually stands firm against him, despite the tension between them and his attempts to discover what she is up to as she hides her alliance with Roma. As a minor villain, I enjoyed Tyler as he provides a great opportunity for us to see Juliette's limits tested. I appreciated that, unlike Tybalt and Romeo, he is an antagonist for primarily Juliette to handle.
Roma, on the other hand, as the disgraced heir to the White Flowers, a gang primarily composed and descended from Russian refugees. No one in the gang is sure why his father hates him so much or why Roma has fallen out of favor, but a large majority scorn him for it. The only two members of the gang who willingly associate with him and are loyal to him personally more than the gang are his cousin Benedikt, their friend and adopted gang member, a Korean orphan named Marshall, and the Dutch scientist Lourens.
One of the great things about These Violent Delights is that it demonstrates the cultural diversity in Shanghai, and both the good and the bad that come from the immigrant populations and integration of new cultures. I was delighted also by the dexterity of language use by the characters, and the way that the author seamlessly demonstrates how they switch between all the various languages that each character is fluent or at least conversational. At times Gong will or will not translate something and each time it feels entirely appropriate to have done so.
I admit that I am slightly biased because two of the languages most frequently referenced are Shanghainese and French, and since I have studied French and Mandarin* in the past, I was able to get the gist of some of the minimally translated passages, though not everything as it is not one-to-one, and I am not fluent in either language.
I thought it was fantastic that the pieces of what happened between Roma and Juliette are delivered to the reader piecemeal throughout These Violent Delights. At the start to the story, Juliette has just returned to Shanghai for the second and what is presumably to be the final time after she had previously returned four years earlier. The previous period she spent in Shanghai is not explored until later, but it is made clear that she and Roma were lovers, that a betrayal occurred, and that they were separated when she returned to the United States. The true depth of their relationship and all that happened between them is not revealed to the reader — or even to each other — until the final chapters of the book.
In terms of queer representation, I was pleasantly surprised to find that this book contains a trans character, albeit one that is so deeply stealth I never expected that they were trans until we get to read from their perspective, and it is revealed to us. I am still unsure how I feel about it exactly — spoilers are below.
Overall, I really enjoyed These Violent Delights, and I am looking forward to reading its sequel, Our Violent Ends when it comes out in November 2021.
Happy reading!
Cheers,
Talia
*Note that Shanghainese and Mandarin are not the same language, nor are they mutually intelligible. However, Modern Shanghainese has been influenced enough by Mandarin that I was able to recognize a few words and phrases from when I studied Mandarin back in high school.
Note: This page contains affiliate links. If you choose to purchase after clicking a link, I may receive a commission at no extra cost to you.