I am late to the Red, White & Royal Blue train — the book came out last year, and that is when many of my friends read and gushed over the book. I resisted because I thought the book was too pink, but eventually I bought a copy and let it sit on my shelf for a few months.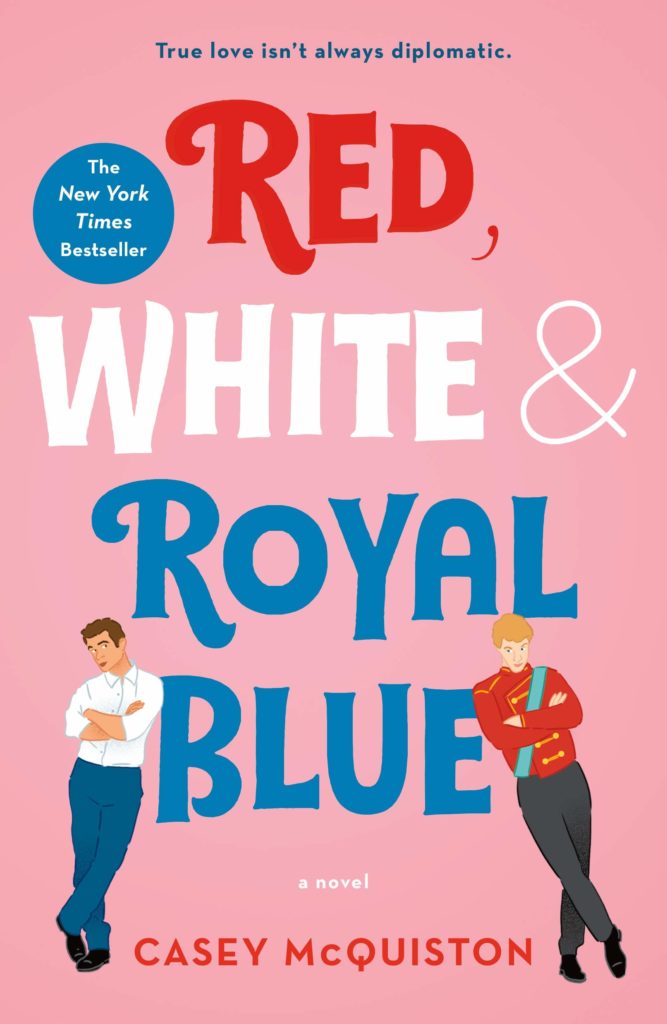 Then 2020 happened. And kept happening. And when faced with the prospect of reading another article about how screwed we are and how the end is nigh because we're destroying the planet I finally picked it up off the shelf and threw myself into it with a vengeance. I wanted fluff, I wanted romance, and I desperately, desperately, wanted to escape the pressures of my internal life, the world around me and the weight that 2020 and the increasingly worse years before it have cast upon myself.
Inside the world of Red, White & Royal Blue I found a marvelous and somewhat escapist version of the world, one that was difficult to live in, sure, but so much brighter than the one I feel I'm in now. In that 2020 there is no pandemic. It's a world with romance and stakes that feel high, but without the same tension as our world because look, there's a female president and she her biracial kids are successful millennials and the whole book is just a shiny happy look at the world, one which is a certain brand of white liberals wet dream. And I do not mean that in an entirely figurative sense either, this book is not erotica but some of these scenes were very steamy and I kinda liked it. But that is beside the point.
In Red, White & Royal Blue the main characters are rich and successful and come from marginalized communities but are framed as always keeping those communities top of mind. Progress is inevitable. Peace is possible. And yet the book also recognizes that there are people who think they are doing the most but are part of the problem. The book acknowledges the terrible and harrowing degree to which white men in power have the resources to stay in power despite hypocrisy and maltreatment of those they continue beneath them and who have fewer resources and less social capital.
What is most amazing about all of this political and social commentary is that all of it occurs in the background as a subplot and vehicle for the heart of the story, which is the romance between Alex, the First Son of the United States, and Henry, English Prince and third in line of succession for the crown. Red, White & Royal Blue is an enemies to lovers story, but my favorite thing about the book is probably how (relatively — the book is over 400 pages) quickly the transition happens, because it allows the rest of the book to focus on the dynamics of their long-distance relationship, its political, social, and interpersonal consequences, and most importantly the personal growth that both Alex and Henry go through from the beginning of the book to the end. The book that I started reading because I wanted an escapist love story ended up being one that became meaningful for me in a very real way. This book is also just really funny — Alex, Henry, and all the other characters contain a kind of wit that for the most part is very much up my ally, and Alex's discovery of his bisexuality and the way he comes out to his family, rather than being traumatic as many instances of coming out are, is littered with moments that as a queer person with some overlapping experiences made me giggle.
All that said, I have some reservations about the fact that despite the narrative repeatedly emphasizing how Mexican Alex, his sister, and their father are, the book has only a throwaway line about Alex's grandparents being immigrants before never mentioning them again. This baffled me, because given Alex's character I would think that there would be more about Alex and his extended family and community, either because of time spent with them, or because of a regret for lack of time spent with them. Given that this is a book that claims to care so much about equality and diversity I am surprised that this element was not included. Granted, the tome is already over 400 pages, but I would not have minded if some of the sex scenes were toned down or cut entirely, steamy as they are. Overall I think the portrayal of POC was on the better sign of what I've seen from books written by white authors, as Casey McQuiston clearly had very good editors/sensitivity readers, but at the same time there were a few things that fell short (the non-acknowledgement of police violence is one example — the fact that this was written before our version of 2020 is no excuse, police violence against Black folks has been an issue in this country for centuries).
I really liked Red, White & Royal Blue and so if you are looking to escape into an alternate version of 2020 and enjoy a cute story for a few hundred pages I recommend.
Happy reading!
Talia