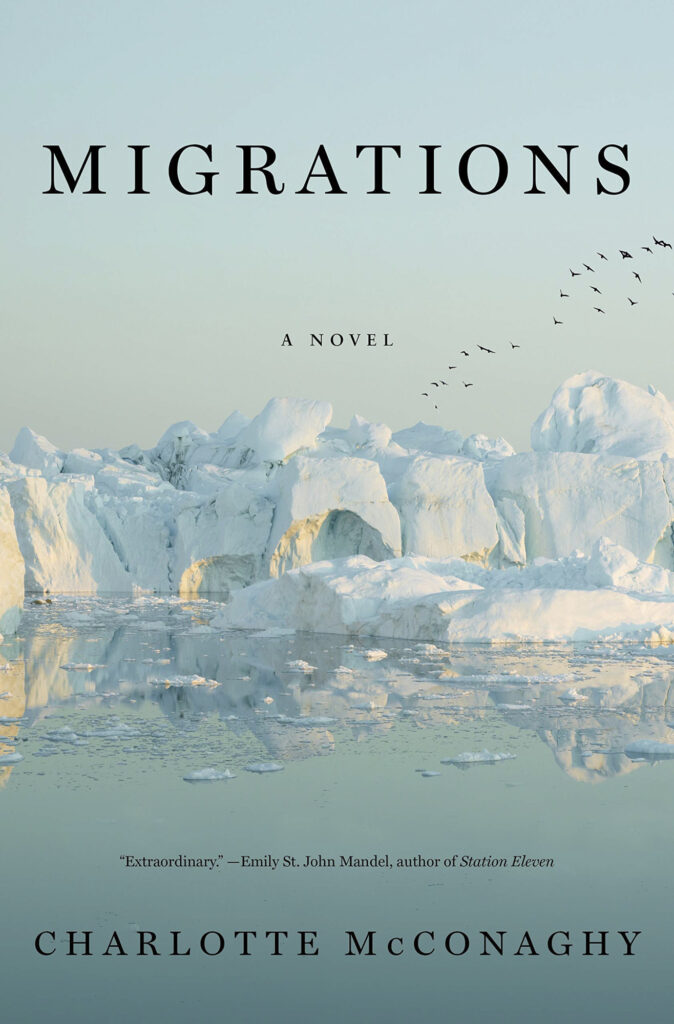 Every time I read a book it changes, and I am changed by it. A year passed between my two readings of Migrations and what a year it has been. One of the central themes of this book is the death of almost all wildlife on Earth and the destruction that humanity is wrecking upon our planet. You can imagine how thoughts of this text ricocheted through my mind as I read about the destruction wildfires wrought upon vulnerable animal populations earlier this year and in 2019, especially given the fact that the main character of this text, Franny Lynch, is Irish Australian and the author Charlotte McConaghy hails from Sidney.
The novel is nonlinear and set in the near future. No exact dates are specified in relation to our time, but self-referentially the novel takes place roughly within a 12-year span and at its farthest endpoints the scenes span twenty-five years. In the contemporary timeline, Franny is on a mission to track what may be the last migration of the arctic terns, and she recruits the crew of one of the last legal fishing boats, the Saghani, to help her. Due to the novel's format and Franny's status as an unreliable narrator Migrations is a story full of twists that are an amalgamation of satisfying, heartbreaking, and confusing as all hell.
The first time I read the book I struggled to get into the story, picking it up and putting it down, until I got about thirty pages in and I was hooked. The second time (granted, I already knew everything about the plot) I could see why I didn't find the novel engaging at the time based on the distracted mood I was in last summer, but this go around I found the slower and more careful start to be very moving.
The language of the book overall veers toward the poetic (not a negative in my opinion) and fits well with Franny's aesthetic as an unreliable narrator, and the big reveals are both heart-stopping and effective. In addition to the way we see Franny wrestle with her tumultuous past, we also get to know the crew of the Saghani and explore the intimate and complex bonds they share with each other and with Franny as she becomes a member of their crew. I appreciated the attempt at multiracial and queer representation, and yet I cannot help but feel it missed the mark. The characters who have the most depth to them, and who come out better off at the end of the story, are almost all white. With the caveat that I myself am not Native I was discomforted by the fact that the most in-depth scene we get with Anik, who is an Inuit character, is centered around he and his family's beliefs surrounding death and the spirit world, which reinforces stereotypes surrounding Native and other BIPOC characters comforting white characters about difficult topics such as death.
Overall Migrations hits hard emotionally, as it skillfully manages to grip tightly in its hands the issue of climate change while also concerning itself with the perennial feelings of family, abandonment, rejection, validation, absolution, and forgiveness.
For all its merits leading up to the conclusion of the book, I cannot help but feel that it failed to stick the landing. Everything about this book was woven with a tight and beautiful intricacy, breathtaking and heart-stopping. This is the kind of read where you keep your eyes extra wide because you cannot consume the words fast enough. But then all sudden the narrative ends and there are far too many questions. Characters whose arcs are incomplete, miraculous resolutions that feel contrived. Just before the end one character is treated in a way that tempts me to bring my five-star review down to a one and did make me bring it down to a three.
I am not quite sure a book like Migrations ever could have ended in a way that was satisfying, so I accept the ending for what it is. This book is worth every moment of the journey, which I thought was amazingly put together, for all that I think the story both stopped before it should have. Migrations does not have a bad ending so much as it does not properly end. That said, I think this would be a lesser book if it ever had a sequel, though I could do with a companion novella. I need to know more about the Saghani crew. Léa is a badass queer Black woman after my own heart and must be protected at all costs.
Happy reading!
Talia