I have spent well over half a year trying to articulate the thoughts in this post, and I am still hesitant as to whether or not I can. All the same, silence is a weapon of oppression, and given the fact that I have spoken on this matter previously, I feel it important to firmly adjust my public stance on this platform to reflect my current opinions.
If it is not related to fanfiction and fan creation, I want nothing to do with Harry Potter. I actively avoid supporting JK Rowling in every way I possibly can. Her power and influence is insidious, and permeates almost every aspect of my life, but I cannot abide what she has said and done. I am committed to keeping my fandom experience of Harry Potter separate from any mainstream commercialized experience of Harry Potter that has financial benefit to JK Rowling. I do not advocate for people to read the original books, or attempt to bring new readers or watchers into the fandom. My only desire is to advocate for fan creation and interpretation and embrace those who similarly feel the hurt I feel and who take comfort in the versions of characters that we've developed in our own right. That is the point of fanfiction and fan creation, and that is what I have come here to do with my work as a writer and a creator.
Fanfiction is merely the name of the genre, because I am not a fan of JK Rowling or of the Harry Potter series any longer, a fact that wears at me, and a burden that I often feel needs repeating. Part of the reason I have stuck around this long, even to the small extent I have, is because I wonder what will become of the series and what its legacy will be once all of the queer and trans fans have fled, once we all stop speaking out. When I did a search on JK Rowling while writing this article in early May 2021, the majority of the articles that popped up were pro-JK Rowling, and/or dated last summer 2020. The only article that portrayed the facts of her actions in a light that was not leaning obviously in her favor was this article from Glamour which notes that it will be updating but is currently dated January 26th 2021. That article attempts impartiality, and includes both anti and pro JK Rowling comments, though the majority of the sample tweets not from JK Rowling herself are negative. That said, it is only one article. I find the lack of widely available criticism against JK Rowling troubling. If you type "Why is JK Rowling" into Google autofill will provide you with "a hero," "a role model," and "an inspiration" before you reach "ruining Harry Potter." Despite how many of us feel, many people still love her, and still enjoy Harry Potter unabashedly. She has 14.1M Twitter followers. The Wizarding World Twitter account has 2.3M. Licensed Harry Potter merch is abound in various stores and online, and the marketing campaign is hitting me personally like a steamroller wherever ads find me.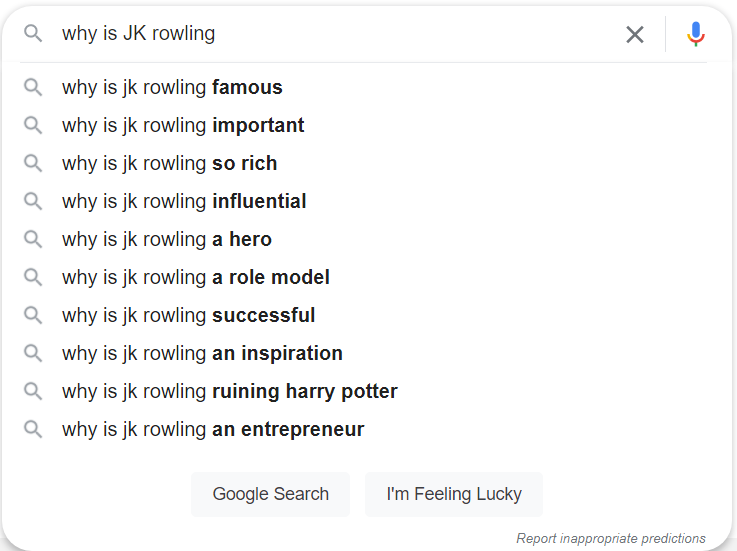 Still, I do what I can because I have to. I owe it to myself, and to my circles of friends who love Harry Potter for what it was, and what it meant to us. What it means to us still, in this new world that has been created. Personally I have packed up all my Harry Potter merch and extra copies of the books. All my wands and mugs and snitches are shoved under my bed, my collection of foreign editions relegated to the back of my closet. Nowadays everything I enjoy is available for free online, because it's created by people like myself, who reject canon and create their own versions of the Harry Potter universe.
I read fanfiction primarily for fun, but also as a form of sociological praxis, particularly when it comes to Harry Potter. We can clearly tell based on JK Rowling's commentary that she is transphobic, but ableism, body shaming, antisemitism, and racism are also built into the fabric of the story itself, simply by way of her storytelling. Fanfiction is interesting to me because I like to see how people have interpreted characters and settings beyond the canonical universe, which is incredibly problematic, and shaped it into their own world. And so that's where I come from when looking at things from a fanfiction lens.
If you're looking for ways to engage with Harry Potter without engaging with JK Rowling I highly recommend The Gayly Prophet's Guide to Firing JKR While Keeping Harry Potter. Also listen to The Gayly Prophet because it's an awesome podcast. And if you like fanfiction listen to my podcast Into the Archives: A Fanfiction Podcast, where I sometimes talk about Harry Potter, amidst other fandoms. But regardless of listening to any podcast, I encourage everyone to do what feels right to them, not what is easy.
Cheers,
Talia